A slew of improvements are now arriving in your phpList account, beating santa to the punch. A much improved public face for your lists has arrived in the form of an optional new theme for subscribe pages. Faster campaign alteration and oversight has been introduced, with more control over subscribers you import.
New copy to draft feature
This new option now makes it possible to duplicate a sent campaign, saving it as a new draft, and leaving the original with its content and statistics untouched. When you have to send a campaign with content similar to an existing one you simply copy it with one click and make any necessary changes to the new one. Copy to draft does not copy attachments yet, but if it would be useful to you then send us a message and let us know.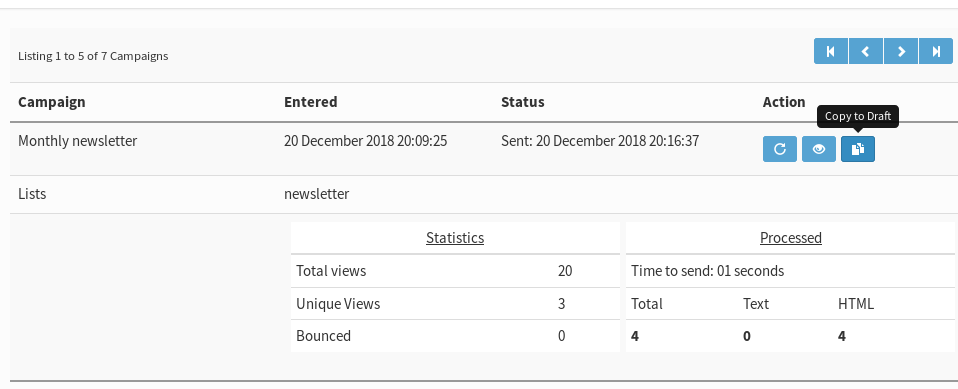 Recipient lists at a glance
Faster access to the lists assigned to receive a campaign is available thanks to an additional section on the List Campaigns page. Mistakes with list assignment can now be more quickly spotted.
New design for subscriber-facing pages
A fresh look for new public pages has been introduced, including subscribe, unsubscribe, and preferences pages. Check out the subscribe page for the phpList.com newsletter to see the design in action. To avoid overwriting custom designs, the new style is not automatically applied to existing subscribe pages. However all subscribe pages now have the option to reset style to default, which can apply the new theme conveniently if you prefer it over what you have. Style updates can be made for each subscribe page independently.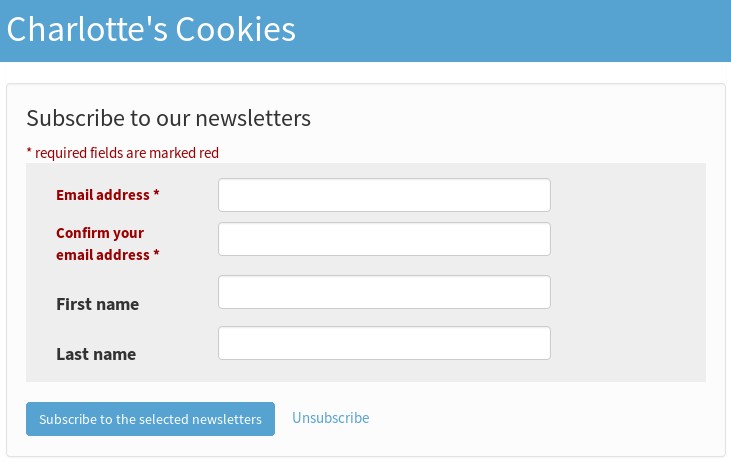 Import unconfirmed subscribers
With the Advent of the GDPR subscriber consent and confirmation took on a new dimension of importance. Not sure about the status of a group of subscribers? Uncertain if a list of contacts are still interested in receiving your content? Now you can import them as unconfirmed and determine how to handle them later. As with all unconfirmed subscribers, they won't receive any campaigns until their status changes, so you can encourage them to reconfirm themselves without sending unwanted campaigns.
phpList Plus accounts perks
A separate article reveals the segmentation plugin powers – now available for phpList Plus accounts
Check the pricing page if you wish to review the differences and similarities between Standard and Plus plans. Get more out of your phpList account using the Plus features
Tweaks and fixes
Other recently introduced improvements include:
The ability to remove a test campaign even after clicks have been recorded
Subscription already confirmed page now displays the lists the subscriber is a member of
Back to top button for easier navigation on long pages
Menu and page display tweaks to group related functionality together