phpList.com has launched a plugin system with an initial bundle of six plugins to try out. There is some really great new functionality to enhance your use of your phpList. There is a new editor for your campaigns, more ways to keep your lists clean and more placeholders. "This launch is an important milestone to for our fast-growing phpList.com service," says Michiel Dethmers, CEO of phpList, "and we have many exiting new developments in the pipeline."
More of what you want
The plugin system allows greater customisation of phpList. You can now choose between two campaign editors, or choose to disable both. You can also use placeholders in the subject line of campaigns, as well as the body of the message. You get to pick and choose the plugins that you need, when you need them.
Which plugins are available?
---
CKEditor
This is our all new editor, which is more modern than the old FCKEditor and is compatible with a wider range of browsers.

The CKEditor provides more features by default, including tables and a choice of fonts and colours.
FCKEditor
This is the original editor and the phpList default. If you prefer the familiar, then this plugin is a keeper! While the FCKEditor can be extended, its basic form (shown below) is popular for its simplicity.

No editor
Another option is to disable the editors. Advanced users can now turn off the WYSIWYG completely, for html only composition without any interference from the editor. To do this simply disable both editors and you're set!

Subject Line Placeholders
A much requested feature: for those who use placeholders, this plugin is a must. With the Subject Line Placeholders plugin you can customise your subject line for every subscriber: for example, by using the [FIRST NAME] placholder you can add their first name.

Date Placeholders
The date placeholder plugin allows you to add a date/the date to your campaigns, in the body or subject of a campaign. For example you can put [TODAY] in the subject and it will be replaced with the date of sending the campaign. This is a real bonus if you use repeating campaigns, as it gives you details which distinguish them.
Invite
In situations where strict rules about email marketing are in force, this plugin can help you get started with phpList. Add your lists to your phpList, then enable the plugin. Compose a campaign with [CONFIRMATIONURL] included, and mark the campaign as an invitation. Once an invitation is sent all subscribers are blacklisted: when they click the confirmation URL in the invite they are removed from the blacklist and will be as a normal confirmed subscriber in the system. You can also use this plugin to ask those who have not opened your campaigns recently if they wish to remain on your lists: this radical method of list cleaning is gaining popularity.
Disposable mail blocker
This plugin can also help you keep your list clean. Disposable emails may sometimes be useful, but in a permission marketing environment, they are not usually appropriate. If these emails start to form a big chunk of your lists it's demotivating, as your statistics will be harmed, and wasteful because you will be sending campaigns that will not be read.
How to get started with plugins on phpList.com
---
To use plugins you currently need a PLUS account. If you do not have a PLUS account, you can upgrade here. To try plugins, go to Config > Manage Plugins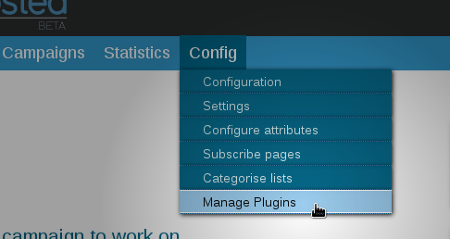 To switch on a plugin click the Enable button next to the plugin you want to try.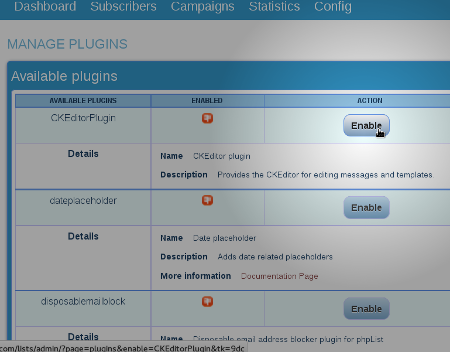 That's all there is to it.
Enjoy!
Happy Mailing
The phpList team