Having large subscribers' lists sometimes can be hard to manage. No matter whether you are a large or small business, you might have lists with thousands or millions of subscribers registered on them. Chances are that these people might be interested in different services or products you offer and if you want to convert those into buyers of yours, you should offer special deals to the right group of people. That's where "List Segmentation" comes to the rescue.
What is List Segmentation?
When website visitors arrive at your newsletter landing page, other than their email they can enter their name, age, country of origin, job position, etc. All these attributes help you identify how they are connected with you. Other than your landing page you might have lists created from attending an in-person event or from past purchases from your web store. All these email addresses somehow are related differently with you and in order to draw their attention you can send them messages related to what they expect to hear from you.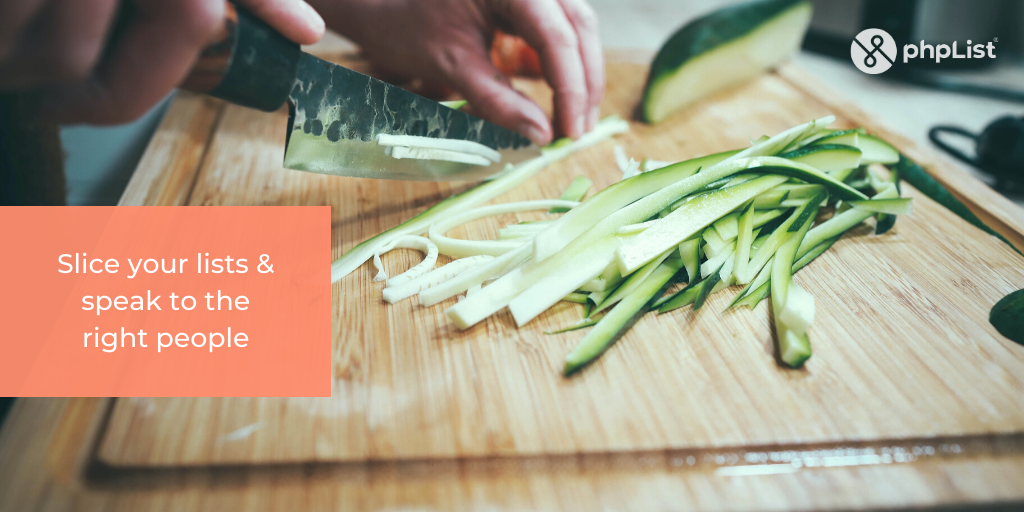 Why slice your lists
It has been observed that campaigns that come from segmented lists result in better open and click rates. This happens because you are speaking to people who want to hear from you, and not a vast archive of emails that might have subscribed a long time ago or that are no longer interested in receiving updates from you. Also, you can increase responses to your campaigns. By addressing questions or raising a topic your subscribers are interested in there is a higher chance of them wishing to reply back to you. Hence you are reaching to people who want to hear from you, you reduce the possibility of them unsubscribing from your lists.
There are several ways to divide your subscribers:
Age/ Gender/ Location: Are you planning a special offer for a specific product or service? Segmenting your list will help to address that to the right people. You don't want to invite people that are based on an other country or city to visit your store or offer teenage products to people older from that age group.
Past purchases/ Inactivity: Buyers that have trusted you once probably will do the same again. How about rewarding them with a special offer or send them with your newsletter products similar to what they have purchased in the past? On the opposite side – have you noticed that a list of buyers is inactive for a long time? You can reach to that particular group of people and seek their feedback.
Job position/ Education lever: Both job position and education level are an indicator of how your subscribers want to interact with you. You might have separate lists for different types of job profiles but if you don't, you can slice your list and send the right content to the right people.
Organization type: Seeking for new customers can be a tough task but you don't have to lose time by reaching the wrong people. Based on someone's job profile or company size you can adjust your content in order to grab their attention.
In-person meetings: In-person meetings are more direct and allow you to have a better understanding of what the person who is in front of you is interested in. Probably you want to send this group of people more personalized to them content and invite them to engage further.
When looking closely at your lists you might identify better segmentation traits to divide your subscribers. Pay attention to these traits and personalize your campaigns in the best possible way.