A new option for displaying your lists is now available, plus a number of smaller improvements to your account.
Public categorisation of lists
Subscribe pages and embedded forms are shop windows, encouraging visitors to sign up to receive your newsletter content — how they are displayed matters! Now you can categorise the lists which you offer for your susbscribers, making them easier to organise and navigate.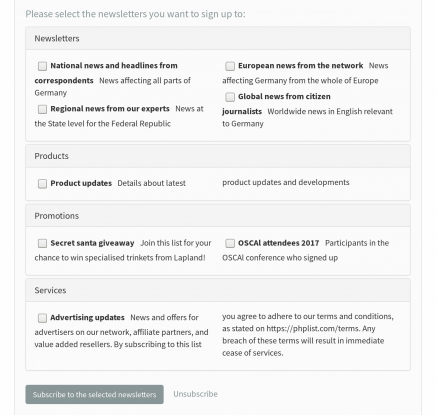 Categorisation of lists via the admin interface is a longstanding phpList feature; now however the same categories can be shown to your subscribers on public pages. Categories will only be displayed if public lists exist within them.
This feature can be enabled for all subscribe pages, or for specific pages of your choosing. A responsive multi-column layout is used to display the available categories, lists, and descriptions.
The new setting is off by default; find it under Settings → list-organisation settings → Display list categories on subscribe page
Activating this setting will set categorisation 'on' for every Subscribe page that is added thereafter. Existing Subscribe pages can be changed manually by going Subscribe pages → Edit page → Select the lists to offer → Display lists in labelled categories
Other improvements now available:
Return an error message when a Subscribe page accessed via Ajax integration doesn't exist, for easier debugging
Add HTML IDs on subscribe page form elements for WCAG accessibility compliance
Improve the warning message for bounces which were recorded but where no bounce data exists
Fix "Add a list" button on import pages
Relabel "Views" to "Unique Views" on "View Opens" page to make it more explicit
Fix automatic link detection and tracking rewriting so HTTPS links stay HTTPS