Among marketers has been long discussed around the impact and effectiveness of email marketing and social media posts in digital marketing. No, there is not a battle between these two but it is important to be able to tell the difference between them in order to build your marketing strategy.
Email has been around for way longer than social media and with a quick Internet search, you can find pieces of evidence of email effectiveness. But on the other hand, statistics show that literally half of the planet's population makes use of the internet and almost 80% of them have at least one social media account. This makes you think that it is faster and easier to reach wider audiences with social media (either with regular or sponsored posts). Let's have a look at the difference between the two.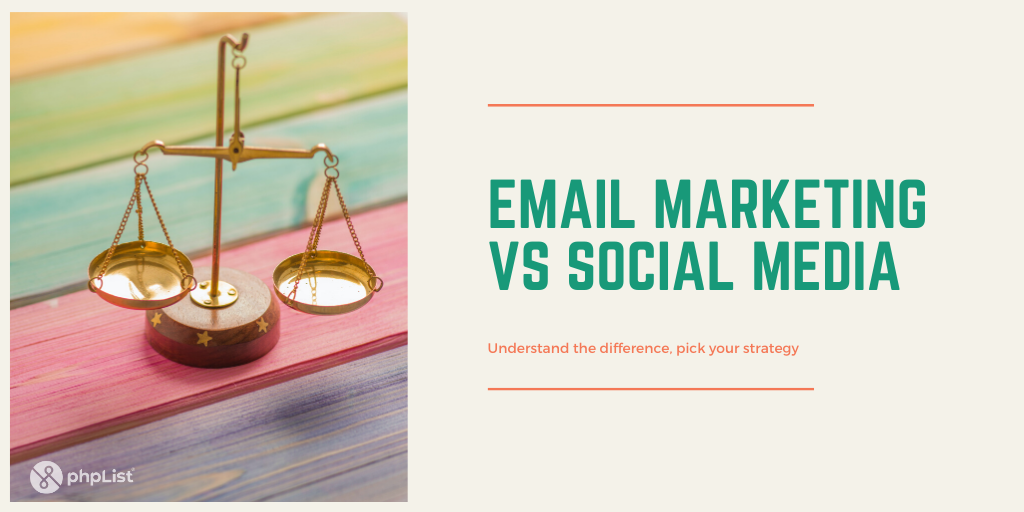 Social media (ex Facebook, Twitter, Instagram, Snapchat, Pinterest, Tik Tok, LinkedIn, etc) are meant to be a place where individuals and organizations publish all types of content – this content can be: family & friends' moments, business promotions, world news, debates over social and political topics, and so on and so forth.
Email Marketing is a marketing tool performed via bulk email sending. Again, the content may vary in each case depending on the sender, the recipient and of course the expected outcome after the recipient receives your the message.
These two mediums are very similar, but not the same. Email sending is more reliable and stable because you have your own audience (called 'subscribers'), your own platform and you are not depending on a large company that is behind the media you are using. Chances are that if you want to reach a wide audience with any type of social media you will have to pay. Yes, social media is not always free (as in 'free beer'). When you pay, you practically rely on their algorithms that promise you that will show your content to your desired groups of audiences. This is how the concept of 'Segmentation' works in email marketing.
Effective email marketing takes time. It takes time to build clean lists, create a good sending reputation, to create content, to get familiar will all feature opportunities. This is a longer time than social media campaigns, but it is what most consumers have stated that they want to be reached out by the companies/organizations that they want to receive news. Return on Investment (ROI) of email marketing seems to be way higher than any other form of digital marketing.
Do they intersect?
Short answer, yes. Both mediums above can be combined for a stronger overall marketing strategy. Share your social links when sending your campaigns and invite your followers to subscribe to your email newsletter. A few tips to have in mind: promote your newsletters on social media by offering a promo code for the first purchase, invite your subscribers to check your social media channels for more frequent updates on your products, study carefully the feedback you receive on social media to shape later on a newsletter strategy that describes best your services and products. When building your overall marketing strategy for a specific time (ex summer promotions, the first trimester of the year) have in mind that content should be able to be adapted across different platforms. So, when creating your newsletter content make that it will be within the spectrum of your entire marketing plan.